When do you really know that a product is REALLY good. Well for us the ultimate endorsement is when a Pro pays to use a non-sponsored product or other brands start copying you.
Sharp eyes will notice how many pro riders from other teams use the original Gabba with the logos blacked out. Some other brands have tried to copy it, but pros know they're at a disadvantage if they don't have a real Gabba. Products like the Gabba WS Jersey define Castelli. Based on pro rider needs, created to offer a tangible competitive advantage, and developed in a no-compromise pursuit of performance.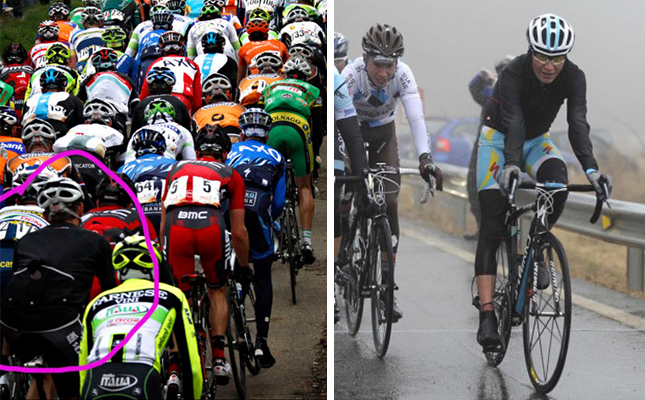 Left: a non-Garmin rider wearing a blackout version the Gabba jersey at Amstel Gold Race.
Right: Brajkovic with the Gabba LS Jersey. The weather for Stage 3 of Volta a Catalunya (2012) was shocking with rain, sleet, snow and cold temperatures. Perfect condition for wearing the Gabba.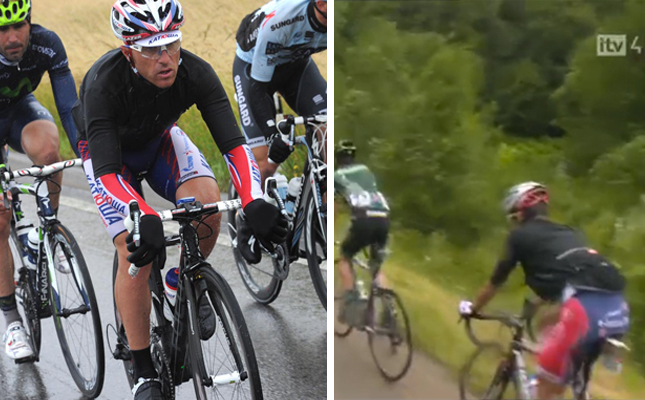 Luca Paolini (Team Katusha) well protected from the elements with the tight-fitting non-branded aero Gabba jersey. Supplying the Italian National Cycling Team, Castelli not only supply the race jersey and short, but the full aero-wardrobe, including Sanremo SpeedSuit, Body Paint SpeedSuit, Gabba WS Jersey, Aero Shoe-cover's etc.
Right image: Tour de France 2012, a Lotto rider spotted wearing a bought Gabba Jersey.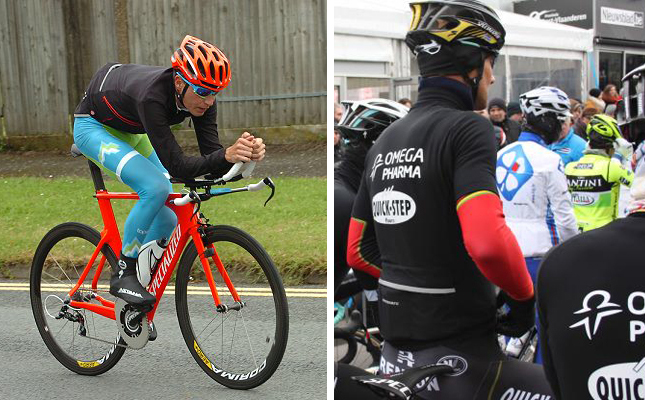 Brajkovic warming up before the start of the London Olympic Time-Trail wearing the Gabba Long-Sleeve version.
Imitation is the sincerest form of flattery. We couldn't help but notice that not only do the pros love the Gabba, it's pretty clear that some other cycling clothing companies were directly inspired by Castelli innovation. I guess we should be flattered, even though it feels more like we've just been ripped off.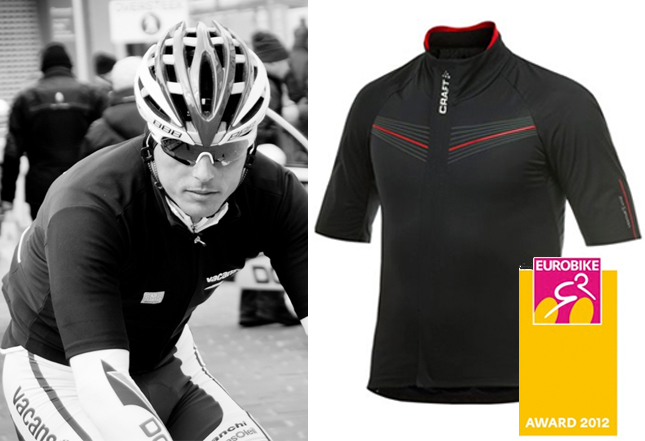 Bjorn Leukemans, Team Vacansoleil. Omloop Het Nieuwsblad 2013.
Below: Gabriel Rash, the inventor of the Gabba Jersey. It began in 2009 when a focus group of Cervélo TestTeam riders worked with our engineers to develop and improve clothing for cold and wet conditions. During one of these sessions, CTT rider Gabriel Rasch, nickname Gabba, came up with the idea of a stretchy, formfitting short-sleeve rain jersey that could be paired with the water-resistant Nanoflex arm warmers to create an outfit that was perfectly geared to the foul weather of the Spring Classics.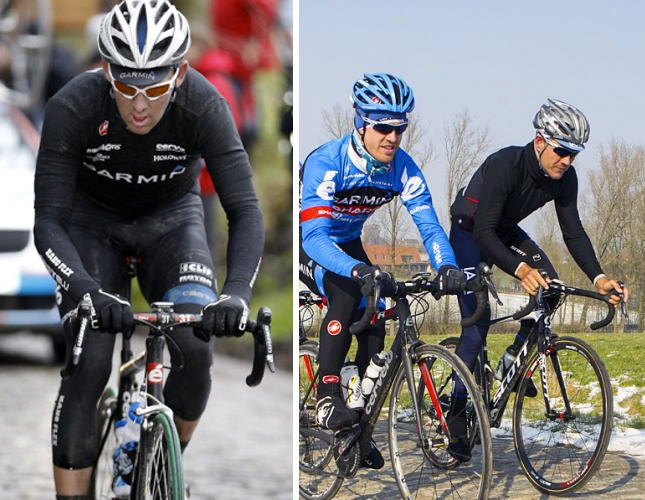 Another big Gabba Jersey fan, Heinrich Haussler (Team IAM) riding with his former teammates Tyler Farrar on the pave of Omloop Het Nieuwsblad last week.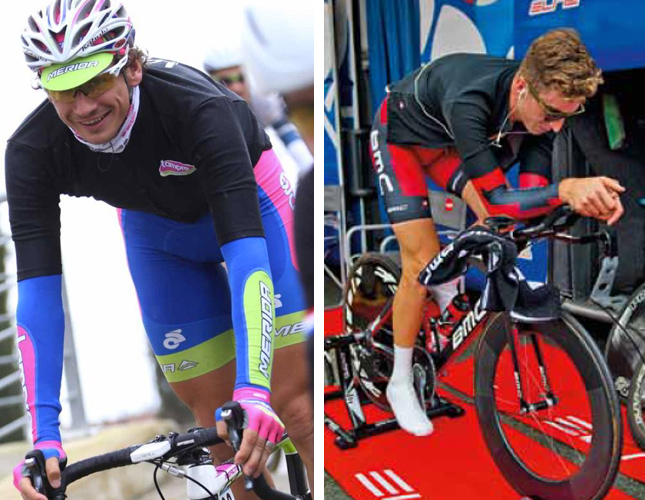 Filippo Pozzato at Tirreno-Adriatico 2013, and Taylor Phinney warming up for the 2012 edition of Chrono des Nations.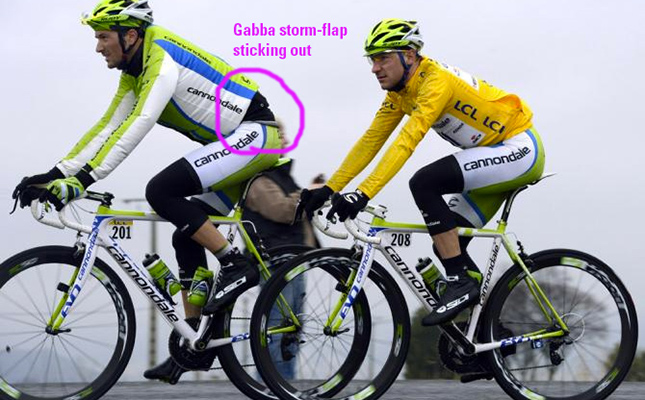 Hey Basso, you got something sticking out on the back of your jersey.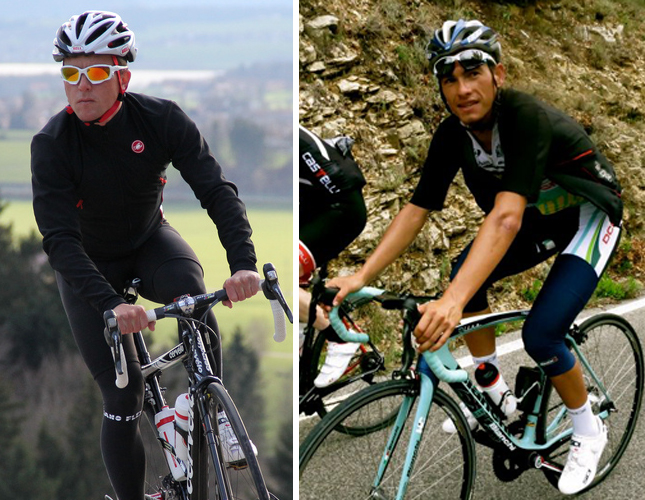 Two Austrian Castelli fan's, Bernhard Plainer, a long-time road cyclist and triathlete. Stefan Denifl (Team IAM), part of the Cervélo TestTeam 'Gabba' focus group in 2009.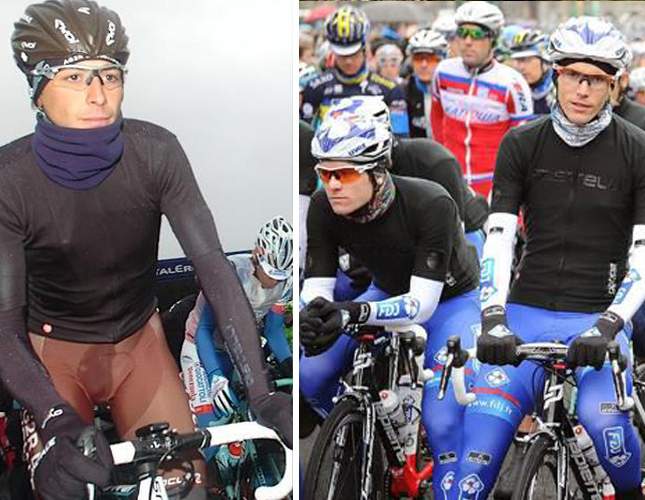 Gabba Jersey and NanoFlex Arm-Warmers for AG2R, bought and blacked out Gabba's for FDJ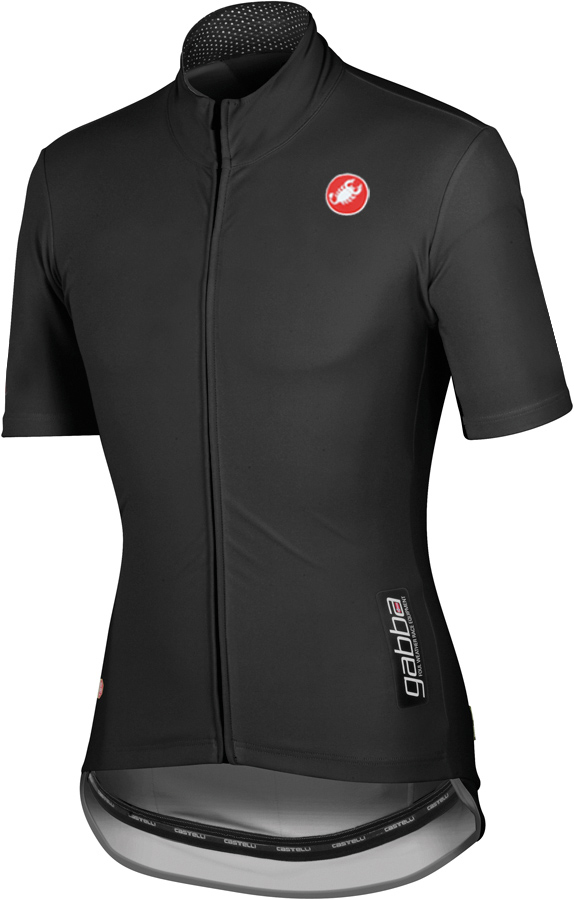 A short-sleeved rain jacket seems ridiculous when you first think about it. The list of Castelli innovations is long, our never-ending quest for performance-based innovation takes us to strange places sometimes. Castelli has been at the forefront of essentially every breakthrough in cycling clothing since making the wool shorts obsolete.
INNOVATED CONTINUOUSLY
1977 FIRST AERODYNAMIC LYCRA® SHORT
1981 FIRST COLORED LYCRA® SHORT
1983 FIRST SUBLIMATION PRINTING OF JERSEYS
1984 FIRST FUNCTIONAL THERMAL WINTER CLOTHING (THERMODRESS)
1996 FIRST FULLY AERODYNAMIC SKINSUIT
1998 FIRST MODERN BIB SHORT, INTRODUCING THE Y-CUT SEATPAD (PROGETTO Y)
1998 FIRST WICKING FABRIC TREATMENT (PROSECCO)
2008 FIRST RADIATING INSULATION (RADIATION)
2010 FIRST ONE PANEL BIBSHORT (BODY PAINT BIBSHORT)
2010 FIRST AERODYNAMIC RAIN PROTECTION (GABBA WS JERSEY)
2012 FIRST SPEEDSUIT MADE FOR ROAD RACING (SANREMO SPEEDSUIT)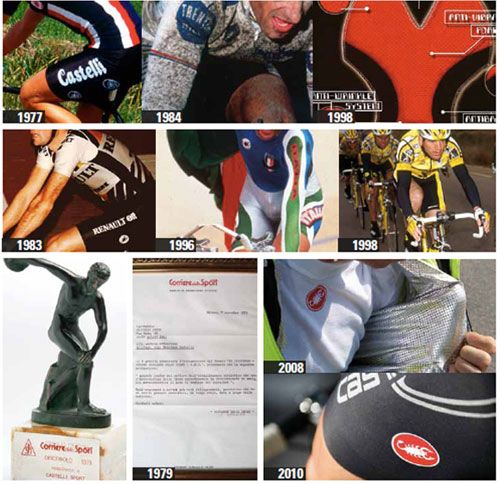 Click here to watch the video on Castelli's history,
a history based on family values, and passion for cycling.