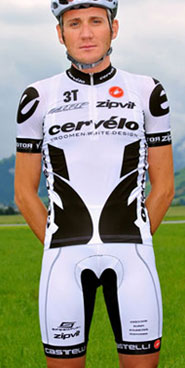 Black has become white!
Though the newest team in the pro peloton, the Cervélo TestTeam has caused quite a stir and notched up some impressive race wins already this season. But it's not just their riding that has been getting people talking, their striking black kit has had heads turning. For the 2009 Tour de France starting on Saturday 4 July, the Cervélo TestTeam will ditch its black jersey and shorts for a new white strip.
"We made the design change because racing during the hot summer temperatures that are normal in Europe is hard on the riders," said Thomas Campana, Managing Director, Cervélo TestTeam, "and the lighter colour will provide some relief from the heat. All modifications to team kit design must be approved by the UCI and we appreciate their prompt attention in this matter."
"Racing in hot weather is physically demanding, that's a given, and despite the fact that Castelli makes some of the lightest and coolest fabrics in existence, wearing a lighter colour will make a big difference, both psychologically and physically, to a rider's well being," explained Steve Smith, Castelli Products. "UCI agreed that the rider's health is paramount, and so we instituted the change."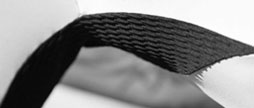 The color is not the only change for the jersey. Adds Steve Smith: "In addition to the new colour, the team is also debuting an updated Aero Race Jersey pattern that features new construction and fabrics around the arm and shoulder making it even more aerodynamic. With over 3 years of development and wind tunnel testing, this jersey saves 10 watts (at 40km/h) compared to standard race jerseys. This would be enough to slice about forty seconds from a 40km time trial, so it's clearly an advantage.  Two thirds of the drag from a cyclist comes from the rider, not the bike. So even small gains here can make a big difference."
Both the men and women team will be riding in the new white kit for the rest of the season starting with the upcoming Tour de France 2009 and the Giro d'Italia for Women.
Castelli will begin shipping the first pieces to the shops before the beginning of the Tour de France, with weekly shipments as we try to keep up with demand. The black kit is still in stock and will continue to be available until the end of the season.