Product talk
0
A first experience report on the Castelli Gear Backpack
Usually it's my girlfriend who gets excited by bags, normally the handbag variety. This time around it was my time to get excited about a bag. Finally after daydreaming and wondering as to when and if Castelli would release a range of luggage, they sprung it on us fans. A strong line up of roller bags for flying, wet bags for storing cycling kit and saddle packs. I was lucky enough to get my hands on one of the Castelli backpacks. And a stunning black and red thing it is too.
I was given the bag a few weeks back at the start of the Giro. Since then I've had plenty of time to fill it with everything from groceries to the cycling kit that I'm sure it was intended to carry, it had a short but intensive testing from me, being my go to back on every occasion I've needed to carry stuff.
What I've found is that the design team at Castelli have produce a product that hits what a backpack should offer and work like. It's a bag that does its job remarkably well and to boot it looks damn lovely. The guys at Castelli don't seem to be claiming that they've reinvented what a bag can do either, in my eye's what they seem to have set out to do is produce a high quality back pack that's going to take a beating in every weather condition and situation, protect your gear and come back for more agro time after time. On top of this they've made it look and fit in with the whole Castelli ethos. Plus and that all important feature of being comfortable hasn't been skimped on either.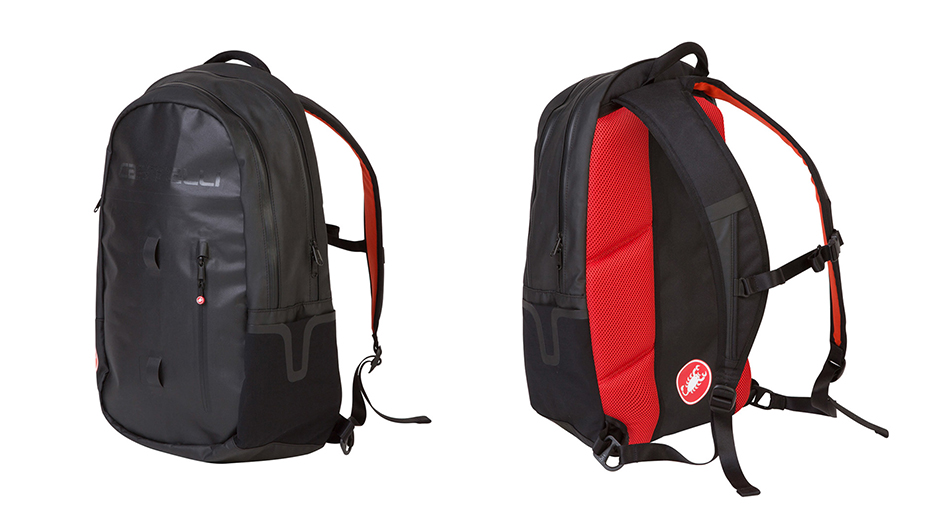 The 26 liter capacity is just about right for storing shoes, all the clothing you'd need for a race, Gran Fondo or a light weekend of traveling. The space is roomy and isn't hindered by nooks and crannies like I've found in other overly complicated backpacks. The multiple little storage spaces don't cause bulk or interfere when they have items in them with the rest of the storage space. If you've had a backpack with similar features you'll appreciate and know what I'm talking about. It's theses small details that have made using the bag a pleasure to use in the past few weeks.
The balance and comfort are what you'd expect, and that's before I even noticed that there was a hidden waist strap to aid this comfort level. Even fully loaded with a multitude of food and weighed down like a packhorse it was secure on the back, the straps are wide enough to not dig in to the shoulders and adjusting them on the fly is a synch.
The bag has fully waterproof zips and an outer that shrugs off the rain as well as dirt pretty well. I'll be able to fully test these features soon, I have a 17 day trip to Iceland where the bag will be put through it's paces in savage landscape and weather, I'll report back on how it survives.
The laptop sleeve does its job nicely, so far seen a few trips to the library and got the laptop there unscathed. The other little features such as the dedicated bottle pocket work as you'd expect, holding the odd beer just as well as a cycling bidon. The helmet loop comes in handy when you've got your lid on when riding, I use the two loops for holding a cable bike lock, this has the benefit of having easy access to it.
When all is said and done the Castelli Gear backpack does its job better than many high-end bags I've used in the past. It's minimal in many senses and I feel this adds to the no fuss pleasure of using it, I personally feel a product succeed when you forget it's their or you're not hindered by downfalls in design.
It's taken Castelli a while to enter the luggage market and I praise them for that, they've clearly decided to not just slap the scorpion logo on a second rate or OEM bag. What they have with their first backpack is something that lives up to the Castelli brands image and high standards.
All details about the backpack: Gear Backpack
Full collection: Castelli Race Bags