Most overshoes are much of a muchness but the Nano's have a few features that set them apart from the rest.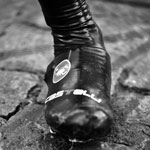 The lightweight, stretchy fabric is a much more supple than normal – you're hardly aware you're wearing them – and the polyurethane face is waterproof, unlike standard neoprene. Rain and spray can slowly soak in through the seam that joins the upper and lower sections – it's not taped – but your feet will stay drier than normal in these. Even if water does get in, they still keep your feet reasonably warm, like most other overshoes.
You don't get as much insulation as with thick neoprene, but the Nanos keep the wind off and allow your feet to heat up inside. There's good coverage around the sole too with just small holes for your cleat and heel, and that makes a lot of difference. We've found them about right for autumn use and milder winter days, swapping to something more hardcore when the mercury dips below about 7°C.
You get a sturdy YKK zip at the back with a flap behind that stops it catching on your clothes or shoes, and reflective piping along the side makes a valuable safety feature. The cuff is elasticated to give a comfortable gap-free fit around your ankle while a silicone gripper is designed to hold the top in place – not that we've ever had any issues on that score.
As for the price, these are certainly among the more expensive overshoes out there but they do back that up with an impressive performance and the build-quality is high.

Verdict: High-quality, water-resistant overshoes for autumn/spring and milder winter conditions. Read the full test review: click here >>
Go to product page: Click here >>