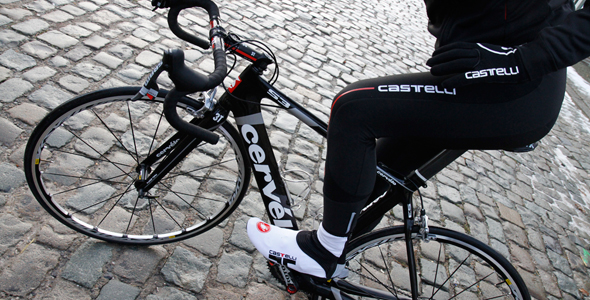 One winter tight for all conditions. A technical wonder!
Putting in those base miles over the winter and early spring should be as comfortable as possible.
On a dry day, the FLUIDO NANOFLEX WIND BIBTIGHT is a technical wonder—wind-protection, minimum seams, warm, stretchy and breathable. But when it starts to rain, the real magic kicks in.
DETAILS & FIT
The Fluido tight is curved to perfectly fit your body and won't bunch and chafe, specially at the back of the knee, when you pedal.
We have increased the cold-weather comfort by adding SG0.6 Wind wind/waterproof fabric to the exposed frontal portions of the legs. Another panel is strategically located at the top of the crotch to shield you from cold winds.
Aside from the stretchy SG0.6 Wind fabric, the use of a combination of our super soft and fleecy Thermoflex fabric coated with millions of tiny silicone nanofilaments will give you the most water-repellent fabric finish ever.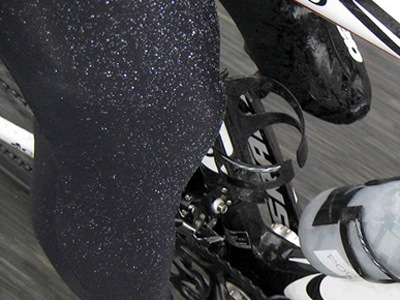 Thanks to the fleecy Nano Flex fabric, exclusively engineered by Castelli, on side and back, drops of water bead on the surface of the fabric and run off—so you don't have to turn around and head home when the skies open up.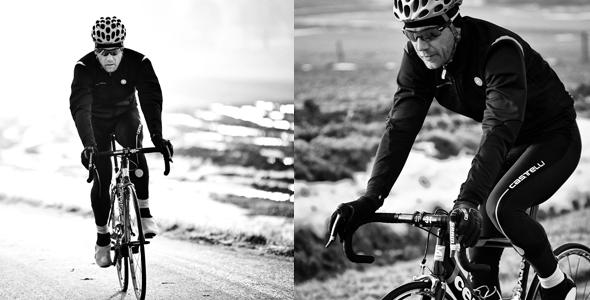 PROGETTO X2 SEATPAD
The pad is different from most multi-density seatpads on the market. Instead of a bunch of raised ridges settling against your skin, the skin-side surface, Skin-Care-Layer, of the pad is one smooth piece.
The multi-density cushion layer is on the other side of the skin care foam – and created by carving away sections of a single block of uncompressed foam to create the different sections of cushion, just where you need it most.
The cushion layer also features 3 perforated gel inserts for heat-ventilation – two under the ischial sit bones and and one in the perineum area. They're called a 'viscous comfort zone' and are so thin that you hardly feel them, which says a lot about how well they integrate with the pad. Placement of these 'zones' has been chosen to fit "90% of bike saddles".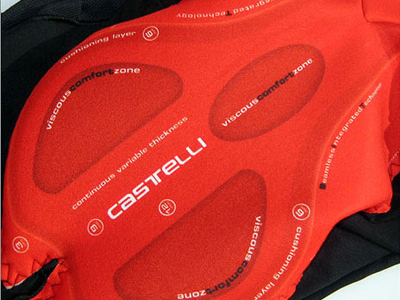 OTHER FEATURES
The bib uppers have a large mesh insert in the back for maximum ventilation and stretch. In addition, the narrower seamless Giro++ bib-straps allows for a more even distribution of pressure over the shoulders, especially when wearing a few layers. Zippered ankles make it easy to fit over socks and under (or over) my booties. The total garment weight is only 308g, size Large.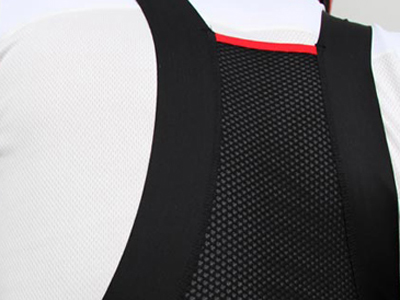 Give yourself the performance effect in winter's worst conditions with the Fluido bib-tights. Fluido is also available without seatpad, click below for more details.
FLUIDO NANOFLEX WIND BIBTIGHT
FLUIDO NANOFLEX WIND BIBTIGHT, NO PAD
Photo: Jered Gruber
Text: Soren