The votes are in! Congratulations to Jesus-Velasco Camacho for winning the Facebook SanRemo Thermosuit competition. Castelli announced the winner on Friday, and already has some good feedback from Jesus on his first experiece with the Sanremo Thermosuit.
"My first feeling was great, a very light fabric with a super comfortable and warm interior. Yesterday was clouded with temperatures down to 3° degrees Celsius, so quite cold," says Camacho.
"I was only wearing the Castelli Iride Seamless LS baselayer underneath the Sanremo Thermosuit, and was feeling comfortable with a good balance between staying warm and dry.  The interior is very nice and soft, and the jersey cut prevents cold air from entering."
[youtube width="400″ height="279″]http://youtu.be/vkbRMotW4WE[/youtube]
"Great side ankle zippers with reflective inserts  and elastic tape helps to keep the wind out while adding high visibility in low-light conditions. What strikes me most with the Thermosuit is the lightness and full weather protection for chilly riding, its amazing. The only down side,  the heat transferred Castelli letters on the tight starts to crack when the fabric is stretched."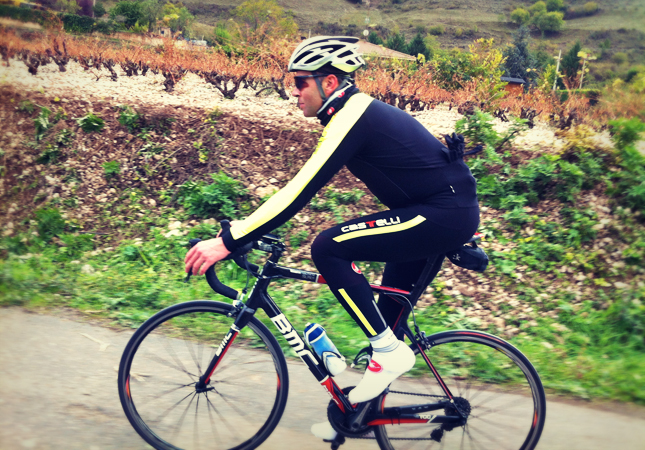 "My final evaluation, a lightweight garment with full-weather protection so you don't have to wear multiple layers or a bulky jacket."

I would like to give my congratulations for this garment to the Castelli designers and engineers.  I will keep loving riding my bike and wearing Castelli."
Jesús Velasco Camacho. Twitter: @Jesus__Velasco
Logroño (La Rioja-Spain).