June 2012 (Portland, OR) – Castelli USA announced today that the Cannondale prepared by Cyclocrossworld.com Professional Cyclocross team of Tim Johnson, Jamey Driscoll, U23 National Champ Kaitie Antonneau, and newest team member, Ryan Trebon, have chosen to ride Castelli apparel for the 2012/13 Cyclocross season.
The team will select from a wide range of Castelli apparel for racing and training, including an all-new cyclocross version of the revolutionary SanRemo Speedsuit, water resistant Gabba WS Jersey and Claudio Bibshort, feathery Pocket Liner Jacket, and Nanoflex arm and leg warmers. For race day, the team will rely on the same San Remo Cross Suit that riders everywhere have access to through Castelli's Servizio Corse program.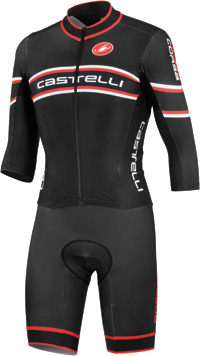 "We are proud to be partnering with the Cannondale p/b Cyclocrossworld.com team for this season," said Rich Desmond, Rich Desmond of Castelli's Servizio Corse custom division.  "This team has an incredible roster of athletes that will provide unique insight into the demands of this sport, allowing us to further refine our technical apparel for cyclocross racing."
"Castelli has long been chosen by the top athletes and teams in cycling, including our newest team member, Ryan Trebon", said Stu Thorne, Owner of Cyclocrossworld.com.  "Their dedication to innovating with the best in the sport made this an easy decision for us and we are eager to take advantage of the technical advances Castelli USA brings."
The Cannondale p/b Cyclocrossworld.com team will be racing with Castelli's groundbreaking San Remo Cyclocross suit, a supremely aerodynamic integrated jersey-­‐and-­‐shorts combo customized to allow the range of motion dynamics unique to cyclocross. Castelli has developed the suit specifically for cyclocross racing, which not only sees the racers in the typical riding position, but also off the bike and running in an upright position – something most speedsuits are not suitable for.
The suit pairs the Body Paint 2.0 shorts, with virtually seamless construction and Progetto X2 chamois, to the Thermal Aero Race Jersey, featuring optimized aerodynamics and ¾ length sleeves to keep the chill off once you get up to race speed. The suit is available through Castelli's Servizio Corse custom Team program.
Photo of Ryan Trebon from 2011/2012 Season.