Choosing the right equipment and clothing can be the key to a joyful ride. After a long, chilly and snowy winter cyclists yearn for spring to get the cycling season started. But riding in spring often means riding in bad or uncertain weather conditions including rain and heavy winds. Especially the typical April weather sometimes doesn't make it easy to choose the right kit for your spin.
By: Bernhard Plainer.
When it comes to riding in harsh spring conditions in Austria, I have two favorite outfits: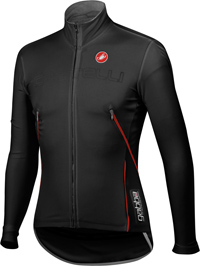 CASTELLI KIT FOR DAMP CONDITIONS:
If it's already wet and/or chilly or the forecast predicts showers, the Aero Rain Lite Jersey (also known as Gabba LS jersey) is my best friend, paired with Claudio Bibshorts and Nanoflex leg warmers. No wonder, that the Gabba- and Nanoflex-range quickly became the kit of choice for the Garmin team riders. It's fantastic, that everyone can now benefit from the same pieces and technologies.
The long sleeve jersey (well you could also name it a jacket) was a long awaited addition to the Castelli range in fall 2011 and remains unchanged for spring 2012.
It's a fully windproof (almost the whole piece is made of Gore WS X-lite plus fabric) jersey witch is nearly completely waterproof. Compared to a rain jacket, it's a lot more aerodynamic and allows a better fit. Three back pockets make it easy to store away your usual stuff like food, accessories or even a full rain jacket.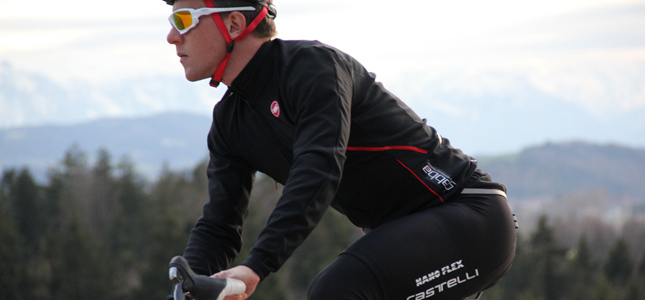 Integrated Eyelets ensure, that water can drain off the pockets. A storm flap at the back protects from wheel spray but can also be folded up when not needed.
Thanks to two ventilations zips, it's easy to regulate your body temperature when climbing or temperatures rise.
It's one of those small details which contrast with standard gear. The zippers are well placed and can easily be handled with one hand (even with long finger gloves).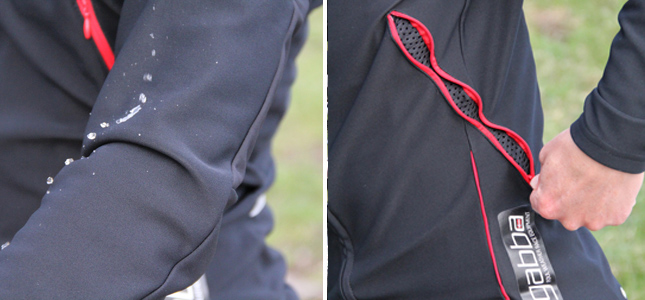 CLAUDIO BIBSHORTS:
Bibshorts are no longer reserved for cycling in warm conditions. Together with the right accessories, the Claudio bibshorts combine the versatility of summer bibshorts with warmth and protection of thermal tights. It's a slightly fleeced bibshort, threatened with Nano particles which provide an almost waterproof effect. Combined with some Nanoflex leg or knee warmers when needed, you get a warm and almost waterproof solution for your legs.
The Kiss3 pad guarantees a great amount of comfort and makes the Claudio bibshort an insider's tip not least because of a fair pricing.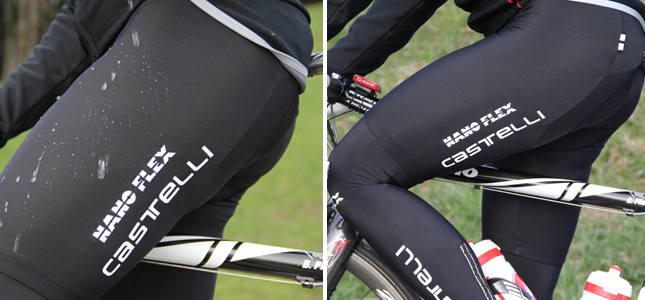 CASTELLI KIT FOR MILD AND DRY CONDITIONS:
If you don't expect rain and it isn't too chilly, I often wear a super soft and warm short sleeved jersey.
As you probably know, pro riders are equipped with special jerserys for early season. At the first look you won't see any difference to the standard jersey. But they are made of a more insulating fabric and – depending on the manufacturer – are sometimes even fleece-lined and/or made with longer sleeves. Most of the pros only wear them at the beginning of the races on top of their racing jersey and drop them at their team cars later in the day.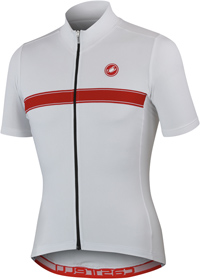 As a hobbyrider you usually don't have the support of a team car and you have to deal with this matter differently. Castelli's Fedele Jersey is one of those magic pieces for interim period (in spring and autumn). It's slightly fleece-lined and therefore a lot warmer than a normal shortsleeved jersey. Combined with different baselayers, armwarmers or a vest, you get a multifunctional piece for a wide range of temperatures. You can easily adjust your outfit for changing conditions or your personal needs.
The fit is very good (tight and flexible) and the fleece lining is so cosy, that you hardly will pull off the jersey. The Fedele Jersey comes with three pockets (one with an additional and very practical zipper for your valuables.
NANOFLEX WARMERS:
If you ever tried these nanoflex warmers (arm, leg, knee), you probably won't wear something different any more. The high-tech fabric offers the same amount of warmth as your standard fleece-lined warmers. But at the same time they provide an unbelievable water repellant effect. Worn during a race of 200 k in the pooring rain last year it's proven, that it even works for long distance rides and you don't get cold or wet.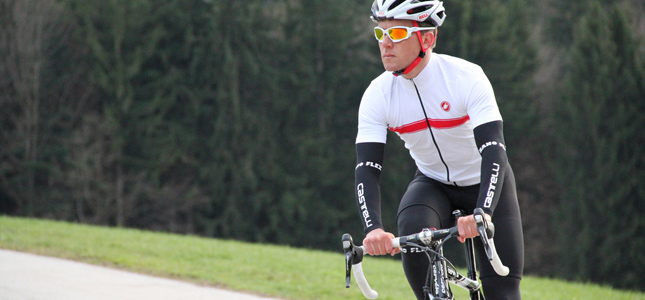 So, in the 21st century bad weather is no longer an excuse for staying at home. Outfitted with these pieces, spring riding is a pure enjoyment.