Castelli is stoked to be a supporting sponsor on the second Milano edition of the Red Hook Criterium.
The Red Hook Criterium is an unsanctioned race featuring fixed gear bicycles competing over multiple laps of a fast twisty route within the desolate streets in the Bovisa area of Milan.
The field consists of elite-level road, track, cyclocross, and mountain bike racers, bike messengers and urban cyclists. The RHC has developed a unique style of cycling event that combines the underground art of street racing with the intensity of high-level competition in a spectator-friendly atmosphere.
The competition include the best street riders from the United States battling against a mixture of Italian street racers and elite level Gran Fondo riders.
Keeping with race tradition, the after party will immediately follow the race where the top finishers will be showered with champagne, prizes, and cash.
Come check it out on Saturday, October 15 at 10:30 p.m.
For more information: redhookcrit.com
[vimeo]http://vimeo.com/26010617[/vimeo]
Video credits: Pietro Malegori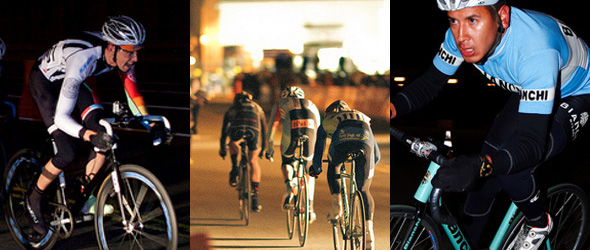 Photo credits: RHC