Tested Obsessively By Cervélo TestTeam. This revolutionary new Progetto X2 seat pad will already have more than 500,000 kilometers of testing before it reaches the market during Spring 2010.
The seat pad has been in development for nearly three years. Made with 10 separate components, and 12 different phases in the manufacturing process, never before has there been this much effort put into making something effectively disappear under you.  You could call this obsessive. But that thought will vanish the first time you ride it.  Then you too can say "It's perfect".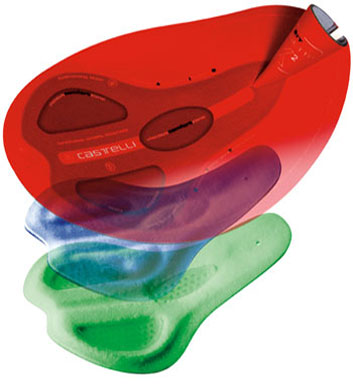 SKIN CARE LAYER (red layer) is a soft, stretchy, seamless, bacteriostatic layer next to your skin with the simple task of preventing any sort of chafing. It's made to adapt to the shape of your body and the saddle without any folds of the fabric. It's probably the softest thing to touch your private parts since you got out of diapers.
CUSHIONING LAYER puts just the right padding in the right places. Castelli invented Vario Thick, and now we take it to a new level with infinitely variable thickness. The edges of the pad are thin, gradually thickening to maximum thickness under the ischial bones where you sit. Perforated viscous comfort padding is added under the ischial bones and in perineum area for maximum padding in these highly sensitive areas.
"The new red pad is really good, and I used it without chamois cream! No problem, also in the hills…. Good job!" — Thor Hushovd
"Just wanted to give you some feedback about the shorts!!  For me they're perfect!"
— Heinrich Haussler
"In 16 years as a pro, this is the best seat pad I have ever used."
— Inigo Cuesta
"Don't change anything. It's perfect."
— Andreas Klier,
when asked what we can do to improve the prototype Progetto X2 seat pad.
You'll find the Progetto X2 seat pad in the new revolutionized one single piece fabric Body paint Bibshort. For more information: Click here >>