Riding bikes – especially if in a beautiful environment and/or with a good community – can be one of the most pleasant activities one can imagine. The longer the ride, the more one will appreciate a well-fitting, fashionable and functional kit. Be it 'just' for a short after work spin, a weekend king stage or for a Granfondo season highlight. If you ride on a regular basis, it's only natural having a wider variety of pieces to choose from. It's a relief to know having the right stuff for every kind of situation or weather.
My new favourite kit for a summery ride is the Climber's Jersey and Inferno Bibshort. I even found myself wearing it in cooler conditions, as we were not blessed with sunshine and warmth this May and early June. The fit for both pieces is exceptional and the combo is dedicated to deal with hot weather. Let's get into detail.
Climber's Jersey:
The Climber's Jersey was originally designed based on needs of Team Garmin Sharp. The riders wanted a superlight jersey for hot conditions. The team is one of castelli's test fields and it's only natural, that most innovations find their way into the regular collection sooner or later.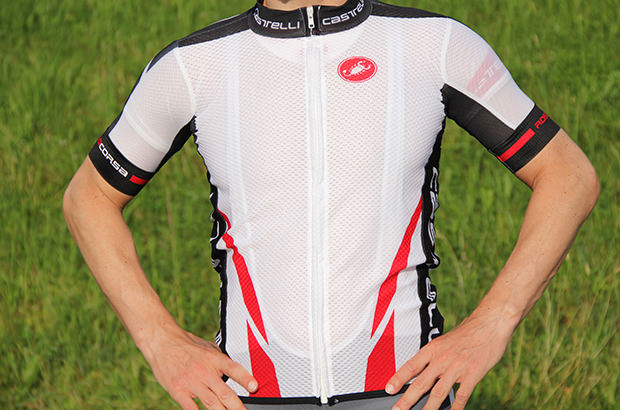 The cut is form-fitting. A bit tight at the shoulders and chest whilst standing, but non-restrictive when being in the bike position. All in all a fantastic fitting jersey with aerodynamic in mind. I don't have exact numbers, but I can imagine, that the aero-performance is on the level of castelli's Aero Race 4.0 Jersey.
Giro³ arm cuffs and a very stretchy mesh fabric on shoulders and sleeves, secure a smooth airflow without any flapping in the wind. The full-length YKK-Vislon zipper allows to adjust it easily anytime. Three standard size back pockets with a good amount of stretch, don't sag when fully loaded.
The new ultralight 3D mesh fabric at the main body (front, side panels and lower back) turns out to be the secret of this jersey when it comes to moisture management. The open construction and excellent wicking prevents the jersey from getting soaked and dries very quickly. Maybe also a reason, why some Garmin-Sharp riders also wear it on rainy stages, because the fabrics do not weight them down compared to a standard kit and also because it dries much faster.
To be honest: I don't think, that this will be the main usage for a hobby cyclist who usually does not like to ride in the rain or at least is wearing a (thin) additional protection layer. Talking of usage: Thanks to its very low weight, you almost don't realize that you are wearing a high-tech cycling piece. It's my new favourite jersey for those above 25°C rides and it also works very well without a baselayer. 
Final advice:
Be careful when wearing accessories with velcro (eg. gloves, vest, jacket), as the highly breathable 3D mesh fabric on the main body could get damaged.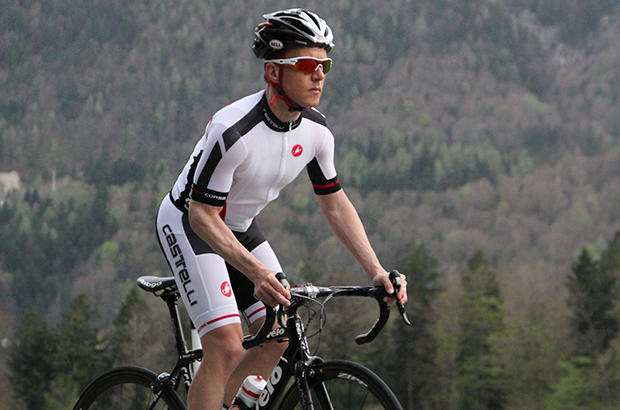 Inferno Bibshort:
Some brands follow suit and offer lightweight jerseys for warmer conditions. Castelli is already one step ahead and also has a matching bibshort in their range to round out a unique summer combo.
The short contains of seven different fabrics, each one perfectly placed to meet the high expectations of Team Garmin for hot conditions. At first sight, the perforated side panels are the most remarkable detail. They play an important role on cooling and moisture exchange. During a fast downhill, you can even feel the extra cooling of this fabric.
Of course, castelli also manufactures their comfortable, non skin-irritating and market-leading Giro³ leg grippers which can be found in almost every pair of shorts in their spring/summer 2013 collection. The Progetto X² Air seat pad includes a perforated surface to improve breathability and allows maximal riding comfort.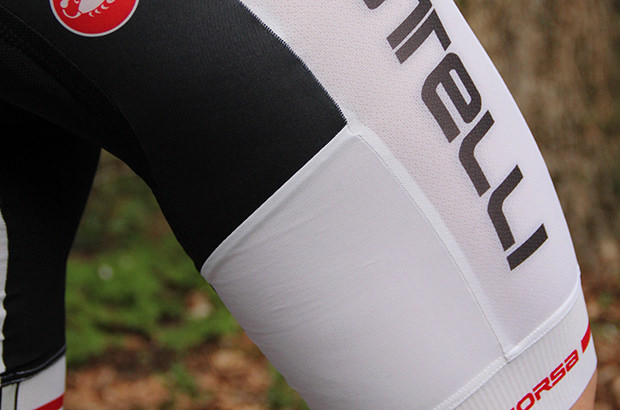 Speeking of the seat pad and inner leg area, castelli uses a very breathable and durable fabric. It improves moisture management and guarantees longevity.
If you know and probably love the BodyPaint 2.0 Bibshort, the Inferno Short is definitely the way to go for terribly hot days. It fits like a second skin and helps to keep cool in summer heat. It's also made to be ridden in the mountains and it was my first choice climbing the famous Kitzbüheler Horn a few days ago.
By reason of its several different fabrics, I'd personally recommend to dress carefully.
Both pieces come in three different colours and the Climber's Jersey is also available through castelli's serviziocorse custom teamwear.
Due to the superlight fabrics, castelli highly recommends using sun cream.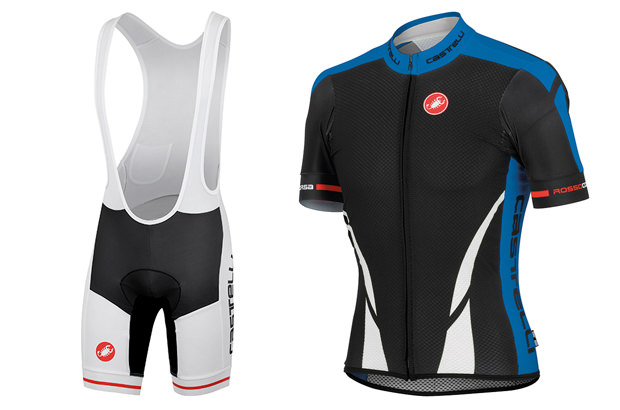 Take me to the product page :
Climbers Jersey
Inferno Bibshort