On 9 November 1979, Castelli won the prestigious Corriere dello Sport Discobolo award. The presentation letter says, "Castelli… has, in a truly futuristic way, revolutionized clothing for cyclists."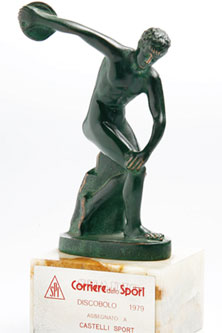 In 30 years, nothing has changed. Each and every day we set out to create tomorrow's revolutionary futuristic clothing.
Castelli has been at the forefront of essentially every breakthrough in cycling clothing since we made wool shorts obsolete. Were not just creating this seasons fad; were setting tomorrows standards for an entire industry.
1977 First aerodynamic Lycra® short.
1983 First sublimation printing of jerseys.
1984 First functional thermal winter clothing.
1996 First fully aerodynamic skinsuit.
1998 First modern bib short (Progetto Y).
1998 First wicking fabric treatment (Prosecco).
2008 First radiating insulation (Radiation).
2010 Body Paint futuristic short.