By Ane Evjenth – cycleandstyle.com
It is 18.45 pm (6:45 pm), and I am heavily sweating, struggling my way up the 16 km of Monte Bisbino. Monte Bisbino is located at Lake Como. (See Ane's previous article about cycling in the Lake Como area of Italy.) The last few days we have been blessed with sun and a temperature of 28*C (82 F). I have chosen this particular afternoon to try out the Vizio Due Short, Essenza Jersey, and Leggera W Jacket, all from Castelli.
When it comes to cycling clothes I already have an opinion based on my experience from six years of cycling. It is therefore no coincidence that I have chosen Castelli to represent Italian cycling clothes. Castelli has a good fit and it looks great, and I find their collection for women to be as rich and varied as the one for men.
I always prefer biking jerseys with three rear pockets; I never go without my cell phone, identity card, some coins and key (and often also with an energy bar and a wind jacket, so yes, three pockets are strongly needed). The second thing I look for when it comes to jerseys are the length. They have to be long enough in order not to slide up above the cycling shorts and make an open space where the wind can enter. Castelli has all this.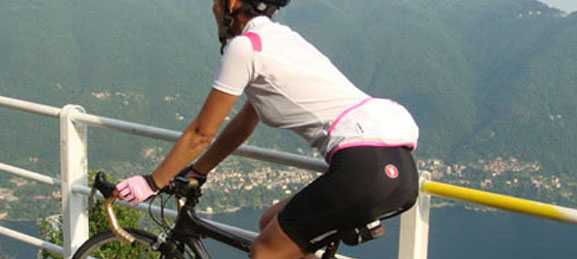 The Essenza Jersey is the right choice for a hot summer day. It is really thin with light weight and reflective elements. I got the Essenza Jersey in white and pink, a feminine combination which just looks great on a sun-tanned skin. In other words, a summer favorite. On top of Monte Bisbino, (1200 Ft. elevation), I stop for a moment to put on the Leggera W Jacket, as I enjoy the great view and the fantastic light from the early evening sunset.
I had no problems fitting the Leggera W Jacket into one of my Essenza Jersey's rear pockets. The jacket which is wind proof and water resistant, has a stand up collar lined with soft mesh, a good length and long arms with elastic cuffs which keeps them at the wrist even when you stretch out your arms to brake. The jacket has hidden breathable mesh-insert in upper back and small reflective elements. It includes a small transport bag which can be hooked on to a little loop on the inside of the jacket. The jacket is a must for going downhill and makes the trip a great cycling experience and pleasure to the very end.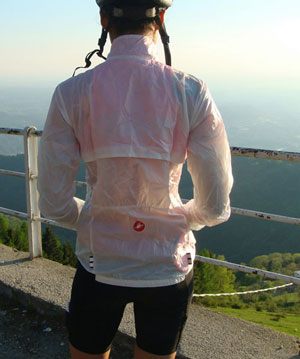 When it comes to cycling shorts I prefer the ones with straps (bibs). This is because shorts without straps have a tendency to sag a little. So when I got the Vizio Due Short from Castelli without straps, I was in doubt. After cycling up (and down) Monte Bisbino the shorts did not sag, or even move, except when they followed the movement of the body. The other great thing is that the legs of the shorts are without the usual silicone leg grippers, and they still sit perfectly around the thigh. I am very happy with these shorts and can highly recommend them.

Lake Lugano is near Lake Como and are situated on both the Italian and Swiss side of the border. I am here to try out my Ideale Jersey and Tenacia W Gloves as well as to get into shape again after a cold and rainy spring. The Ideale Jersey has a hidden zipper, reflective elements and is feminine and at the same time, sporty in design. With its three rear pockets and the perfect length it is really as its name is saying, an ideal jersey.
The Tenacia W Gloves have a ventilation system within the gel pads on the palm. I cannot say that they are softer than other gloves I have tried before, but the ventilation is ok, and they look great.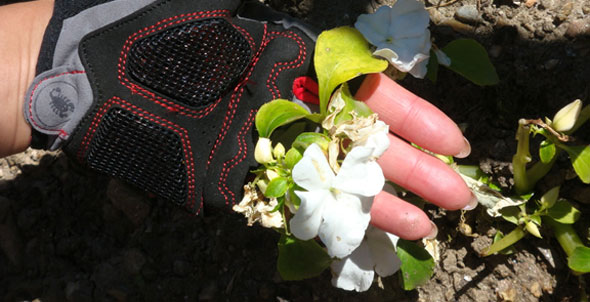 And last but not least, if you want to complete the look, why not do it with Luna Socks which comes in four different colours and are made in antibacterial fabric. The socks stops just above the ankle, but still they give a good support and are very comfortable.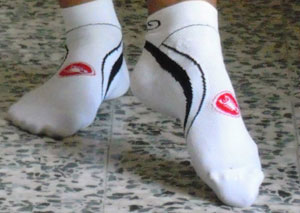 More about Women, Style and Cycle, cycleandstyle.com