The Castelli equipped, Italian National Road Team, with the Italian 'Commissario Tecnico', Paolo Bettini, had the occasion to visit for the first time the course of the UCI Road World Championships where this year's titles will be awarded.
Thanks to the support of the Paolo Bettini and Gabriele Balducci, Castelli had the oppotunity to do a couple of laps with the Italian team on the challenging circuit.
The road race course is one of the hardest for many years, and will provide some spectacular racing. There will be a form of "natural selection" in the final phases. It will not be enough to have strong individuals: there will have to be a united team, one able to collaborate well.
The Elite men covers a total distance of 272.5km, with more than 3000m of climbing, as much as in a mountain stage at one of the Grand Tours. The total distance during the 10 circuits around Florence in the Elite men's race add up to 58.6km of climbing or 30% of the distance covered on the circuit.
The road race championships will be held in Florence, Italy, between September 22-29, 2013.
More video interviews, pictures, stories and insider views, click here >>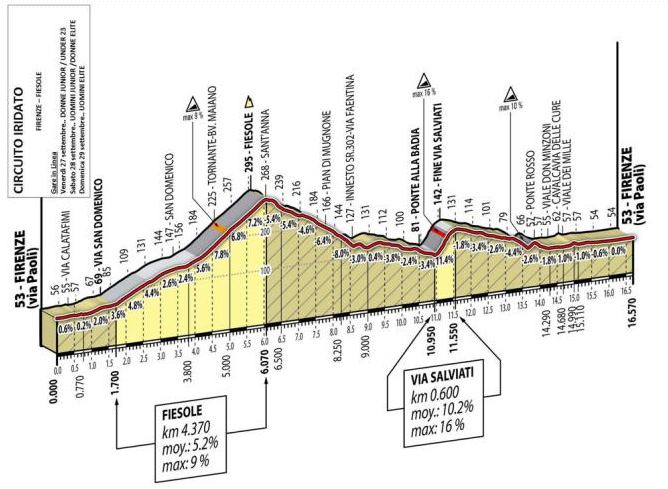 Profile of the 2013 world championship road race finishing circuit in Florence.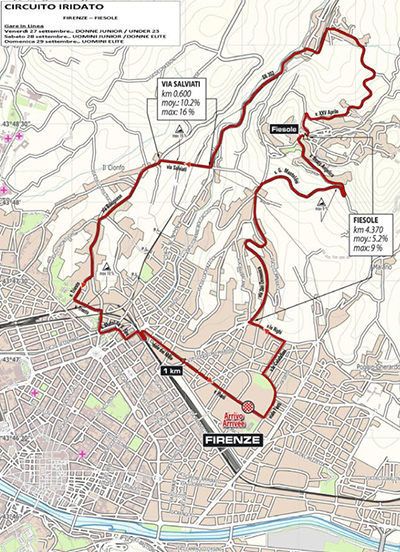 Leave a Reply