We want to thank all of our 15,000 Facebook fans by giving away 20 of our 2013 Calenders photographed by Jered Gruber!
Well, we are not quite to 15,000 but we are really close. When we get to 15k we'll start giving them away, and for every 50 more fans after that we will give away two more until we get to 15,500!
So we need your help to get there, and 20 of you will be rewarded.
Contest Instructions:
Make sure you are a fan of CastelliCycling on Facebook.
You must comment here and tell us why you should get one of these amazing Calendars, then share this post on Facebook and tell your friends.
Don't forget to share it with your friends on Twitter as well.
Prizes will be awarded to our favorite comments.
Prize Eligibility
This prize draw is open to residents of The European Union and North America, except employees of Castelli and their families, agents or anyone else professionally associated with the draw. We will give away 10 in North America, and 10 in The European Union.
Now lets get going and you could be as happy as our friend Jesus Velasco who got one.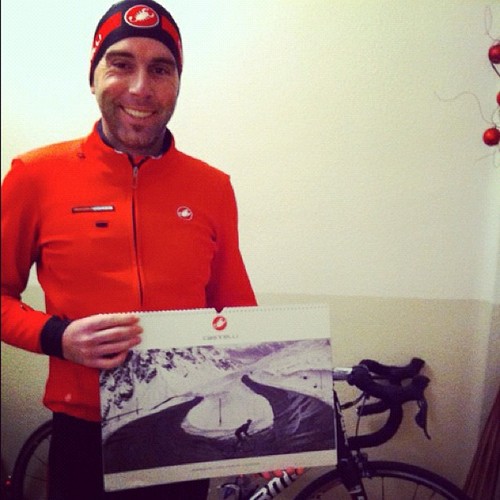 137 Responses

Jeremy Boetger
Douglas Pegram
josh
Marion Reyes
Dennis Eickhorst
Joe
Dylan
Aaron Frias
Madeline Brozen
Alex M
Curtis Chow
Henri Do
douglas jacobson
Erik STefanek
Michael Heavymike Andersen
jpfreimuth
serge Noel
Dan Rhule
Chris Jennings
Marc Vasquez
Andy Perry
Dawn
Tony Utitus
Austin Lear
Dion Smith
richard aardenburg
Thomas
Joshua
David B
David
Nicolas Dery
Don Wilson
Jered Allcock
Lisa
stephen cormie
Ty Chilcote
Brian Lucas
Mitch Jamieson
Simon white
Matt Flynn
Kevin Toerne
Matt
Nelson
Stephen
Nigel Farquhar
Aidan
Vladas
Susan Gerhardt
John Curtis
Kent M.
Dave S.
Noriko P.
John Sadler
Rick Bush
Matt F
Jon Gee
Dan E
GOUMAN N
Jon
Lana B
Melissa Borden
Ron McGuire
Jason Sitar
patrice gravel
Andy Mac
Pauline lee
Linda Jellison
Greg Shaver
Keith Allen
J. Nieforth
Maxx Vai
Andrew cox
Andrew cox
Ana Saraiva
Ana Saraiva
Stefan
Wayne Yu
Jules Lebster
Filip Rovensky
Jeffrey
Yuri Samer
James
Greg Costigan
Melissa German
franko
Liam Cahill
Michael Muniz
Mirko Manfredini
Rick Bush
Danny Mills
adam
ss29er
carlo
Andy
Owen Morris
Evan Blankenship
Ralph Apa
Matt Gates
Frank Ramos
Broderick
Nick
Casey
Jim Anderson
Larry Buehler's
Cycloid
Derek Cote
d tsi
Jake
Danny England
Jamie bishop
John
Mark Brazier
nicola coles
Grant S.
Helene Anda
Tyler Tafelsky
Raymond O'Sullivan
Jenny
Leave a Reply