Team Garmin-Sharp today unveiled its 2013 kit from technical clothing supplier Castelli, which will be raced for the first time at the Tour Down Under. GPS leader Garmin and Castelli continue to ensure the team has the best electronics and clothing for the season, from the cold spring classics to the heat of France in July.
The 2013 team jersey features an updated design with more distinct argyle on the front and covering the entire back.  In addition to the innovative SanRemo Speedsuit and Gabba WS jersey, there are some surprises in development that fans will see as the season progresses. Team kit is available now for pre-order at any Castelli dealer, or at Slipstreamsports.com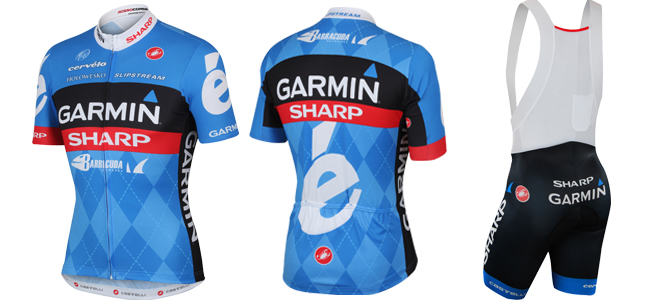 "The close partnership we have with Garmin-Sharp and Director of Sport Science, Robby Ketchell, has led to improvements in 8 models and the addition of 5 new models to make sure the riders have the best possible clothing for every condition," said Steve Smith, Brand Manager, Castelli. "We're happy that our partnership with Team Garmin-Sharp leads to real innovation for the pros that we can then bring into our Castelli collection and our Servizio Corse custom team products. Based on our partnership with the team, every cyclist can benefit from the feedback we get from the pros."
"Castelli and Garmin are crucial partners for the team," said Director of Sport Science, Robby Ketchell. "Their commitment to working with us to provide with the best racing apparel and electronics possible contributes hugely to how we preform on the road."
[youtube]http://youtu.be/gyD-em6jp_0[/youtube]
Learn about the Edge Edge® 810 and 510 in the above video, starring Ryder Hesjedal, Dan Martin, David Millar, Andrew Talansky and Jonathan Vaughters.