Riding in the winter often requires a mixed bag of gear, shoe-covers, full-finger gloves, wool socks, tights, jacket, skully, it can sometimes make it feel like you're a gladiator suiting up for battle. With the well-designed Castelli Espresso Due Jacket, you can simplify that battle and ride without a engery-sapping, wind-flapping jacket.
If you're looking for luxury and performance in a winter jacket, then the Espresso Due Jacket is the perfect choice. In designing the Espresso Due, we paid attention to even the smallest details to create the ideal blend of performance, fit, and style.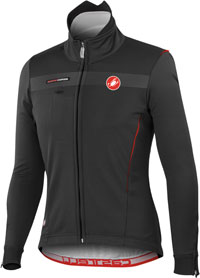 MEETING UP WITH ANDREAS KLIER IN FLANDERS.
Andreas Klier (Garmin-Sharp), born and raised in Germany, moved to Belgium when he became a professional, and spent over a decade riding the region's intricate web of tiny farm roads that give the biggest home field advantage in sports to riders who know all the secrets of their home turf.
Klier recently moved away from Belgium, but when he returned for a cold, December photoshoot with Castelli in 2010, the hardman was all smiles.
After picking-up Klier at Brussels Airport, we barely found our hotel in Molenwiek due to dumping snow and icy roads. When we finally got there, we sat down in the lobby with some beers while going over the schedule for the next day of photoshooting.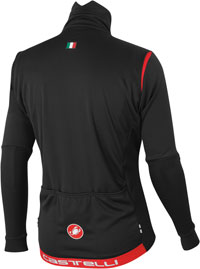 Despite the icy, snowy, freezing conditions, the former Tour of Flanders runner-up couldn't stop smiling. It was apparent that though Klier might not have been born here and might not still live here, his heart and soul will always have a home in Flanders.
Receiving some of Castelli's warmest winter products for cold and windy conditions, Klier quickly unpacked the stylish Espresso Due jacket, "I'm sold, this gives me everything I need, can I keep it after the photoshooting." Klier said with a smile on his face.
With the Espresso Due jacket, there's not much that isn't thought through. The cut is perfect and anatomically-correct for coverage while on the bike with attention to even the smallest details to create the ideal blend of performance, fit, and style.
It all starts with the Windstopper X-Fast fabric used extensively throughout the jacket provides total wind and water protection while allowing for excellent breathability. In short, it blocks the wind while letting your sweat evaporate, keeping you dry and warm. A soft, microfleece lining is essential for the insulation it provides, and works perfect in combination with the dual vents on the backside of the shoulders to prevent overheating.
The Espresso Due's breathability is further enhanced by the addition of two vertical zippers down the front of the jacket: simply unzip them while climbing to allow heat and moisture to escape, then close them while descending to once again block the wind and insulate your torso.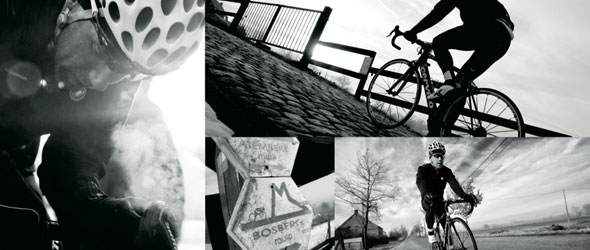 But thats not all, the Espresso Due jacket is full of features: the flip-up Thermoflex collar that flips up to cover the backside of the neck to provide an extra bit of warmth and comfort as it seals up the backside of the collar opening. Two vertical wrist cuffs are offering yet another ventilation opportunity and allowing you to close the jacket around the cuffs of your gloves to create a tight, heat-protecting seal.
The back hem of the Espresso Due is cut low, and an elastic band on the back will keep the jacket from riding up while you're bent over the bike. The jacket comes with three rear pockets, plus it includes an internal MP3 player chest pocket and a cable port for your headphones. The YKK Camlock zipper stays flat when the zipper head is down, and rear reflective tabs improve visibility on late afternoon winter rides.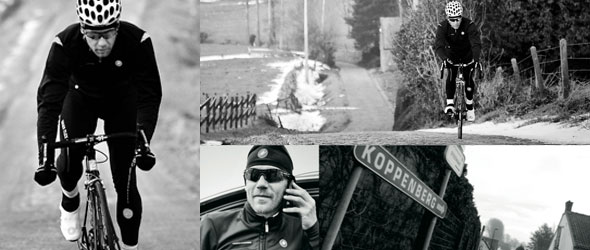 WHAT ABOUT BASE LAYER: Depending on the outside temperature, in this case with minus -2° celcious in Flanders, the Iride Seamless long-sleeve base layer will work perfectly with the Espresso Due jacket. With seamless knitting technology, this is the softest Castelli base layer yet, the polypropylene fibers will mechanically transport moisture away from the skin to the Windstopper fabric and outward.
Espresso Due Jacket Features:
•    Windstopper fabric is windproof and water resistant with four-way stretch.
•    Anatomic form-fit cut for cycling position and perfect cut for a light base layer underneath.
•    MP3 pocket plus cable port.
•    Front zippered chest vents.
•    Flip-up Thermoflex collar adds extra comfort and warmth.
•    Elastic band on back keeps jacket from riding up.
•    Wrist Zips for extra ventilation and easy closure around gloves.
•    YKK® Camlock zipper stays flat when the zipper head is down.
•    3 rear pockets are easy-to-reach and use.
•    2 Rear reflective tabs.
If you're searching for the perfect cold-weather kit to keep you off the rollers this Winter, cast your eyes on these Castelli products:
Espresso Due Jacket
Fluido Nano Flex Wind Bibtight
Iride Seamless base layer
CW 3.0 WS Glove
WS Skully
Quindici Soft Sock
Diluvio Shoe cover
Leave a Reply