Product talk 2

Wet days, I just call it Nano Flex days as these are the pieces that get used most during this time of the year. Commuting or riding at ...

Product talk 0

The Gabba might have grabbed the headlines over the past few years, but Castelli have an impressive range of other jackets to cater for every meteorological scenario. The ...

Product talk 0

Autumn is here, but does this mean you immediately switch to wearing winter jackets or continue to wear jerseys?  Obviously this depends on where you live on the ...
Triathlon 0

Michael Raelert has finished his trip to Australia with a great victory at the Ironman 70.3 Ballarat. It's been his 4th win in an Ironman 70.3 event this year after conquering Rügen, Miami and Mandurah. In 3:48:33 the 34-year old won the race in the southeast of Australia in a sovereign way. Australian Jamie Huggett was runner-up in 3:57:33 only one second ahead of ...

Triathlon 0

Michael Raelert claimed the victory at the SunSmart Ironman 70.3 Mandurah thanks to an outstanding performance. The 34-year old won the race in Western Australia in 3:35:55 after opening up a decisive gap on the run. Two Australians ranked in silver and bronze position: Tim Reed took second place in 3:38:42 in front of Christian Kemp (3:39:43). "Today, this was a really ...

Triathlon 0

Michael Raelert has shown a strong performance at the City Bikes Ironman 70.3 Miami. The 34-year old celebrated a great victory in 3:46:47 which meant an important step on his way back to the top. "I'm really satisfied with my performance today," said the Rostockian after the race, "especially, I'm happy that I have been able to improve on the run." Michael ...
video 0

Team MTN Qhubeka p/b Samsung are the first Pro Continental Cycling Team from Africa – this is their story. From South Africa to the rest of the world, ...

video 0

An interview with Team MTN-Qhubeka's Songezo Jim, a rider who made it to the professional peloton from a South African township. Source: inCycle ...

video 0

The fifth edition of the Red Hook Criterium Milan ticks all the boxes for a great cycling party central, its fun, sociable, enjoyable, sociable, fast and exhilarating as 100 ...
Behind the Image 0

Leeds, UK. It's the Wednesday before the Tour de France and it's the first time we catch up with Andrew since his epic win at the Dauphiné. While it would have been cool to have actually been at the Dauphiné finish, that would have meant missing the most riveting day of racing and seeing every move on TV. When Andrew rolled into ...

Behind the Image 0

Pupils dilated and blank, vaguely focused on an indeterminate point that no observer will ever see—it's known as the 1,000-yard stare, a term used to describe the expression of a battle-weary soldier. When Nathan Brown finally reached the summit atop Mt. Diablo, he had spent nearly 5 hours in the saddle in 90-degree heat. Sweat poured from his body; perspiration had spread ...

Behind the Image 0

200 men stood ready in Compiègne waiting to begin the 2014 edition of Paris-Roubaix, 200 individual stories rich in texture and unique all their own. How each man came to be there, at that moment, is surely a testament to strength of will, perseverance and dedication. One story in particular stands out for us and that is David Millar's. After 17 years ...
Latest Features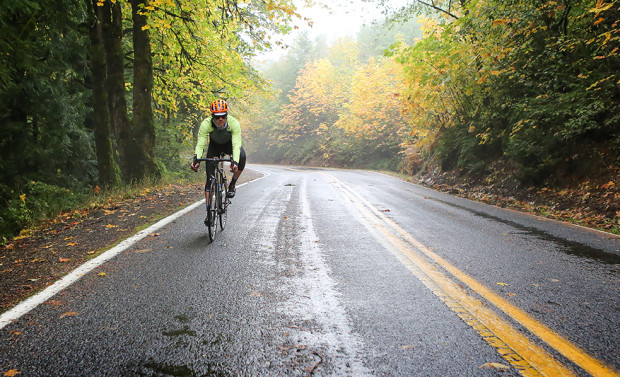 Photo
0
Although winter weather is coming—it has already arrived in some areas—it shouldn't keep anyone indoors during one of the most beautiful seasons of the year. Between sunbreaks and showers, quiet roads are ...