Product talk 0

Now to clear a couple of things up between the Trasparente and the Alpha Jersey. The question thewrightbike asked was is there a place for both in your ...

Product talk 0

The yearly highlight for almost every pro triathlete is just around the corner. After his 5th place last year, TO's final Kona preparations are in full swing. Nevertheless ...

Product talk 0

Winter Changes? Discover how to dress for riding in any winter riding condition – from cold and wet to mild and dry. Autunno/Inverno 2014 Herbst/Winter 2014 ...
News 0

This year's Ironman World Championships proved that the annual gathering of the best triathletes usually is decided on the run. Conditions were hard with choppy waters and heavy winds. When leaving T2, Mirinda's gap to Rachel Joyce run up to 14 minutes and 33 seconds. Victory seemed out of reach – but not for the Australian speedster. She quickly found her rhythm ...

Triathlon 0

One day prior to Kona race day, we are pleased to announce a new partnership for 2015 with Pewag racing team, Austria's premier triathlon team. With 7 pro athletes and over 30 elite age group athletes, we are looking to further our support of elite racers as we use their feedback to help make our products even better. Headlining Pewag racing team are Faris Al-Sultan and Marino ...

Triathlon 0

With Mirinda Carfrae and Frederik Van Lierde winning the Ironman and Ruben Ruzafa's triumph at XTerra Maui, Hawaii 2013 had exceeded expectations. In 2014 Castelli's triathletes already had a phenomenal year with 34 wins and another 26 podiums so far. Five of them qualified for the IRONMAN® World Championship in Kailua-Kona this Saturday. Training is finished, tapering is underway and everyone hopes that on race ...
video 0

An interview with Team MTN-Qhubeka's Songezo Jim, a rider who made it to the professional peloton from a South African township. Source: inCycle ...

Racing 0

Castelli started the aero jersey revolution that has changed the look of pro cycling. To give the Italian national road cycling team an innovative edge at the UCI World ...

video 0

This is a short, but very intimate portrait of Alex Zanardi, the former Formula 1 driver and winner of the American Champ Car Series. Alex was already a ...
Behind the Image 0

Leeds, UK. It's the Wednesday before the Tour de France and it's the first time we catch up with Andrew since his epic win at the Dauphiné. While it would have been cool to have actually been at the Dauphiné finish, that would have meant missing the most riveting day of racing and seeing every move on TV. When Andrew rolled into ...

Behind the Image 0

Pupils dilated and blank, vaguely focused on an indeterminate point that no observer will ever see—it's known as the 1,000-yard stare, a term used to describe the expression of a battle-weary soldier. When Nathan Brown finally reached the summit atop Mt. Diablo, he had spent nearly 5 hours in the saddle in 90-degree heat. Sweat poured from his body; perspiration had spread ...

Behind the Image 0

200 men stood ready in Compiègne waiting to begin the 2014 edition of Paris-Roubaix, 200 individual stories rich in texture and unique all their own. How each man came to be there, at that moment, is surely a testament to strength of will, perseverance and dedication. One story in particular stands out for us and that is David Millar's. After 17 years ...
Latest Features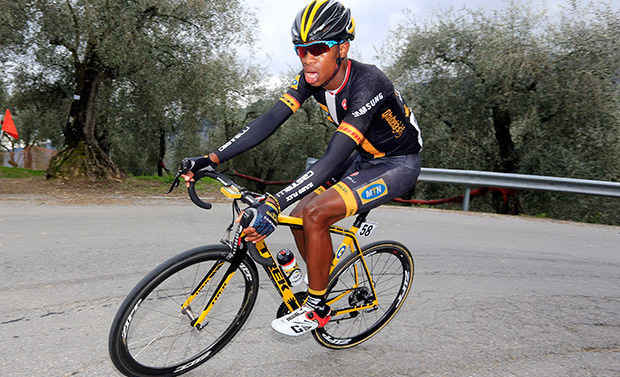 video
0
An interview with Team MTN-Qhubeka's Songezo Jim, a rider who made it to the professional peloton from a South African township. Source: inCycle ...