News 0

Winter Changes? Discover how to dress for riding in any winter riding condition – from cold and wet to mild and dry. Autunno/Inverno 2014 Herbst/Winter 2014 ...

Product talk 0

Throw out everything you think you know about cycling jackets and redesign the way a jacket should be made. Or possibly how they'll all be made in a ...

News 0

The racing season is well and truly underway. For many the sun has arrived, the weather's improving (even here in north of England where I'm sat writing this). ...
News 0

Past weekend has been high-flying for lots of Castelli triathletes. Scotsman Fraser Cartmell finished second at Ironman Wales (Pembrokeshire), 4 minutes behind winner Matt Trautman (RSA). Laura and Greg Bennett did and olympic distance race and both placed 3rd at Beijing International Triathlon. Without no doubt, the most notably results were achieved at the first edition of Ironman 70.3 Rügen. Michael Raelert ...

News 0

After a long break from competition Michael Raelert has successfully returned to the racing scene. The Rostockian finished third at Challenge Walchsee-Kaiserwinkl in a very competitive race. Under rainy and extremely challenging conditions, the 34-year old crossed the line in 3:52:18. He finished close to the title and was beaten by just a few seconds. In 3:51:34 Italian Giulio Molinari celebrated the ...

Racing 0

Achieving five wins and one 3rd place, past weekend can clearly be called a successful one for our triathletes. Castelli's brand ambassadors were always in the middle of things and gained their well deserved prizes. Spaniard Marcel Zamora broke the first ground on Friday by winning extreme triathlon Embrunman where athletes faced around 4000m of elevation on the bike (including Col d'Izoard) followed by ...
video 0

Make sure to spend a few hours at the Museo della Bicicletta on your next trip to the North-West part of Italy. Cyclist since forever, Luciano Berruti is ...

video 0

Join  Bike Channel (in Italian) for a recon of a portion of the Gran Fondo Monte Grappa Cycling route with a total of 3,456 meters of climbing. The ...

video 0

An historic moment in cycling as these nine Team MTN Qhubeka riders, 3 from Europe and 6 from Africa line up at the 2015 Vuelta a Espana today, the first ...
Behind the Image 0

Leeds, UK. It's the Wednesday before the Tour de France and it's the first time we catch up with Andrew since his epic win at the Dauphiné. While it would have been cool to have actually been at the Dauphiné finish, that would have meant missing the most riveting day of racing and seeing every move on TV. When Andrew rolled into ...

Behind the Image 0

Pupils dilated and blank, vaguely focused on an indeterminate point that no observer will ever see—it's known as the 1,000-yard stare, a term used to describe the expression of a battle-weary soldier. When Nathan Brown finally reached the summit atop Mt. Diablo, he had spent nearly 5 hours in the saddle in 90-degree heat. Sweat poured from his body; perspiration had spread ...

Behind the Image 0

200 men stood ready in Compiègne waiting to begin the 2014 edition of Paris-Roubaix, 200 individual stories rich in texture and unique all their own. How each man came to be there, at that moment, is surely a testament to strength of will, perseverance and dedication. One story in particular stands out for us and that is David Millar's. After 17 years ...
Latest Features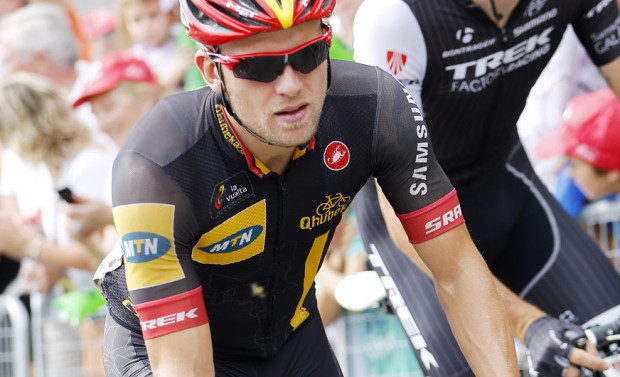 News
0
In celebration of Qhubeka reaching the milestone of 50 000 bicycles distributed throughout South Africa, Team MTN-Qhubeka p/b Samsung cyclist Gerald Ciolek has kindly donated his 2014 Milan ...